An evening of culinary excellence
Signature Chefs Gala, Philadelphia
DATE: 
Thursday, November 16, 2017
  |  
Time: 
6:30 PM
LOCATION: Please Touch Museum
ADDRESS: 4231 Avenue of The Republic, Philadelphia, PA 19131
Parking is available in the parking lot at the museum. The entrance will be through the front doors of the South Foyer.
EVENT DETAILS
Philadelphia's culinary masterminds from some of the highest rated restaurants around the city, will come together for one night to raise money for an amazing cause. The annual Signature Chefs Gala will provide delicious food, fun cocktails, craft beer, unique auction packages, and an all-around great experience. Guests will leave with happy bellies and full hearts knowing that they have helped to ensure all babies get the healthiest start in life.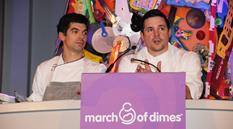 Participating Chefs
HONORARY CHEF CO-CHAIRS:
Chef Jon Cichon; Lacroix
Chef Nicholas Elmi; Laurel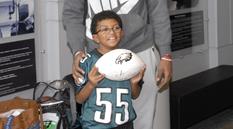 Ambassador Family
Justin arrived just six weeks early and initially had no complications. Then on day six of life his lab results showed he was suffering from hyperbilirubinemia. He received and immediate blood transfusion, phototherapy and IV nourishment. These treatments worked and Justin was able to come home after four weeks in the NICU.
SUPPORT THE MISSION
The March of Dimes is dedicated to healthy pregnancies and healthy starts. But the key ingredient
is you. Fund the Mission is a very special opportunity at Signature Chefs Auction to further the
cause. Your 100% tax-deductible donation during this portion of the live auction could fund...Guests can look forward to Fund the Mission at the event. But if you're unable to join us, please consider giving a 
gift online
or mailing a check payable to the March of Dimes to 435 Devon Park Drive, Suite 300, Wayne, PA 19087
BECOME A SPONSOR
Sponsorship Opportunities Available!